The animation Global Vulva connects female figures and vulva symbols from different times, countries and cultures, while they morph into each other – the cultural meaning of the female genital becomes visible again.
You'll see paleolithic engravings, the Greek goddess Baubo, a winged woman from an ice-age culture in Siberia, an Irish Sheila-na-gig, drawings of vulvas and of their symbols, the Indian goddess Kali and a Yoni stone, the Tibetan goddess Dorje Naljorma, a statue of a nob-le ancestor of the lwena in Angola, the Aztec goddess Mayahuel, the Black Stone at the Kaaba in Mecca, a double-tailed mermaid from a church in Tuscany, the protecting Dilukai from Micronesia, hands forming the mudra 'Lotus and Bee' in a labyrinth, an amulet of the Egyptian goddess Hathor, a winged sun disk, and the oldest human figure ever found, the so called Venus of Hohle Fels.
Otherwise separated visualisations are interweaved, resulting in a more complex and global view on their symbolic levels.
This animation was inspired by the book VULVA – die Enthüllung des unsichtbaren Geschlechts by Mithu M. Sanyal, Klaus Wagenbach publishing house, Berlin 2009.
Awards
Nomination (finalist) Screengrab New Media Art Award, James Cook University's School of Creative Arts, AU, 2010.
Exhibitions
(see also below)
videokunst.ch @ PROGR + Bienzgut, Bern, CH, 8-9 2014.
Virtuelles VaginaMuseum, QDK Quartier für Digitale Kultur, Wien, AT, (seit 6 2014 permanently online).
DIE GROSSE Kunstausstellung NRW, Kunstpalast, Düsseldorf, DE, 2-3 2012.
FILE Sao Paulo 2010 – Electronic Language International Festival, Rio De Janeiro, BR, 7-8 2010.
10 Jahre 'Kunst im Abgeordnetenbüro', bei Manfred Geis, Abgeordnetenhaus des Landtags, Mainz, DE, 6-7 2009.
Kristina Kanders about her composition:
"It was a great pleasure of mine to be allowed to compose and record music for this film. I have played through all the percussion instruments from all over the world that I have collected over the decades, but it was the film itself that served as the inspiration for my improv. I edited the recording on my computer and mixed the free, spherical parts with groovy and rhythmic passages to emphasise the constant flow of change depicted in the film." www.kristinakanders.com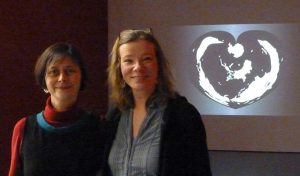 Downloads
Links
---
Exhibitions
---
Relations